Emergency
---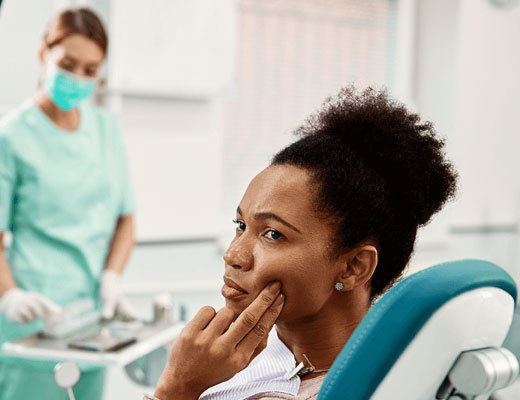 Emergency dental patients may be more common than people realize, which is why you may immediately think to visit an ER or urgent care before first searching for an emergency dentist in Jacksonville, NC. This can end up being a mistake. In reality, it's not only better for your overall oral health to see a dentist, but it may actually save you money and time in the long run.
There are numerous reasons to do a little homework before you settle on who to turn to in an emergency. By seeing a professional who can actively address the problem rather than offering you short-term solutions like painkillers, you may be able to avoid bigger complications down the line, such as a root canal or extraction. At A Beautiful Smile, we treat people for a variety of ailments that can't wait for a standard appointment.
Swelling, Bleeding, Fever
Swollen or bleeding gums, extreme tooth pain, or fever can point to a tooth infection, which can have more serious consequences than just a few hours of discomfort. The longer an infection goes, the more likely it will turn into an abscess.
Damaged Teeth
Physical trauma to a tooth can happen at any time of day, and a good dentist will be able to mitigate the worst effects by either reattaching the tooth or strengthening one that's been severely chipped. If you've unexpectedly lost a tooth, the best thing to do is sanitize and put it back in the socket (when possible). If you're unable to put it back into your mouth, keep it in a jar of water to bring to the dentist. If you're experiencing this type of dental emergency in Jacksonville, NC, it's critical to see a dentist immediately for the best chance of reattaching the tooth.
Oral Health Emergencies in Jacksonville, NC
As with most medical concerns, the standard advice is to err on the side of safety. However, there are certain situations that may need clarification on the part of the dentist. For instance, as a general rule, a loose tooth is not a good sign and will usually need some type of dental intervention. However, if a person has only just noticed a small amount of give in the tooth, this likely wouldn't constitute an emergency. (Teeth have even been known to tighten themselves back up.)
Similarly, if you're experiencing a fever that's not accompanied by tooth pain, it could be a symptom of a common cold or garden-variety flu. If you have questions about whether it's worth your time to see an emergency dentist, talking to the right people can help. At A Beautiful Smile, you can get in touch with professionals that can jump into action. The sooner you call, the more confident you can be that you'll have the best possible outcome for your emergency.