Same Day Crowns
---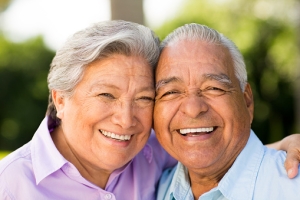 A same-day crown or bridge isn't just a convenient procedure, it can also solve a few problems at once. The longer your tooth is damaged, the better the odds that it will negatively affect your oral health. Traditional crown placements can take weeks to finish, and they require anywhere from 2 – 3 visits. A same-day crown or bridge procedure cuts the waiting time down, without compromising the quality of the job.
Why Get a Crown or Bridge?
This procedure is designed to strengthen your teeth by filling in any empty spaces. In some cases, this will mean replacing part of a tooth, which will entail molding a crown onto the original tooth so it can handle the everyday pressures of biting and chewing. With a bridge, you'll use the surrounding teeth to stabilize an artificial tooth in the middle. While it won't be attached to gums the way a crown or an implant would, the structure is typically stable enough to withstand everyday wear and tear. If you have questions about whether or not you need a crown, whether it's due to a fractured tooth or just general decay, talking to a dentist is the best way to determine which procedure would make a difference.
Advantages of Same-Day Crowns
A same-day crown uses CEREC technology to fashion a permanent replacement tooth. This is convenient on a number of levels, not least of which because a temporary crown can break while you wait for the permanent version. So whether you need it to protect your enamel from nighttime tooth grinding, after a root canal, or as an alternative to a filling, the reality is that this quick and simple process can protect your teeth and make your mouth whole again. Once the crown has been fitted, the dentist will make any adjustments so that it won't interfere with your bite.
Crowns in Jacksonville, NC
There are numerous reasons why people delay dental work, and one of the main reasons is that the time commitment can be substantial. For busy people, even two sessions within a few weeks can be a lot for a dentist to ask. At A Beautiful Smile, our staff is invested in the welfare of our patients, which often means investing in the equipment that will give them the best chances of following through with their dental plan.
If you want to work with dentists in Jacksonville, NC who understand just how valuable your time is, we encourage you to look into the benefits of a same-day crown. If you've had a tooth that could use reinforcement, you couldn't make a better decision for your long-term oral health. The faster you get it done, the faster you can get back to your real life.