Family Dentistry
---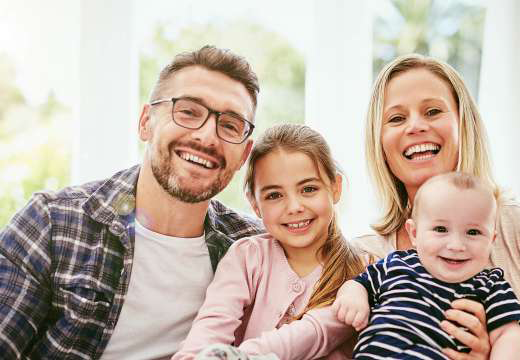 Choose family dentistry at A Beautiful Smile (ABS) in Jacksonville, North Carolina. We are pleased to provide a comprehensive dental service for all ages. Whether it is your first time at the dentist or you are looking for a new dental practice, consider A Beautiful Smile. Here is more about our family dentistry services and what to expect when visiting our office for the first time–whether you are four or 44 years old.
What is Family Dentistry?
Family dentistry is a general practice for maintaining oral health and dental hygiene. We use gentle techniques tailored around kids and teenagers and their needs. This includes keeping visits short rather than having children undergo extensive dental work. You'll also like our kid-friendly dentist.
A Beautiful Smile dentist, Dr. Gina Mancini, offers a safe and fun seating area for kids in the office. She has been working with families in our local dental practice for years. In addition, she has even written a book for children who are going to the dentist. Come by today and take a look around on a free tour and request a copy of our book!
Why Have a Family Dentist?
The first time a child visits the dentist is a time of excitement. Your child's dentist evaluates their oral care and determines if any treatments need to be implemented. This can be the best time to instill a life-long love of the dentist along with healthy hygiene practices.
Your child also has their first experience with the dentist. Make the most of this time by choosing one dentist and sticking with them throughout your child's youth by:
Visiting our family dentist when the child turns four or starts school, depending on if they have all of their baby teeth

Coming to the dentist annually or even quarterly, as determined by your dental office

Providing your child with ADA-approved dental cleaning tools, such as gum wipes, floss picks, and toothpaste

Arriving in time to relax and unwind in the kids' section, which helps children become excited about visiting the dentist

Preparing the first-time visitor paperwork, including identification of each family member
Dental records are more easily maintained with a single dental office. Also, your child can grow in confidence when visiting the dentist each time. This makes life easier for you as a caregiver. If your child has a traumatic injury or suffers from an accident and breaks a tooth, they can also be sure they have a dental professional ready to help.
What to Expect at A Beautiful Smile in Jacksonville, NC
When you visit A Beautiful Smile in Jacksonville, NC, your family will find all the essential dental services. Dr. Mancini is ready to assist your loved ones. Contact us today at 910-347-9100 for an appointment. We are accepting new patients in the greater Jacksonville area.