Periodontal Gum Therapy
---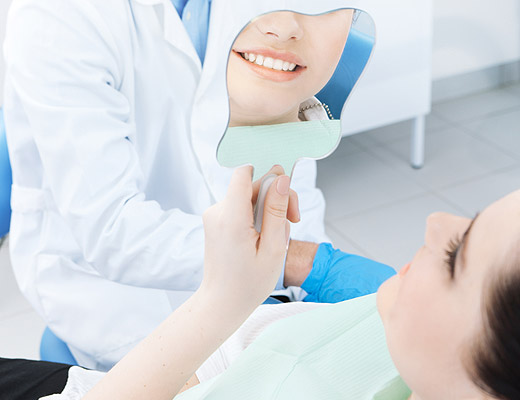 Periodontal gum therapy is a treatment that is based on periodontal disease. This therapy is provided during dental visits by our dentist, Dr. Mancini.
We are ready to treat early-stage gum disease, as well as advanced/late-stage periodontal disease. Our treatments will slow down the progression and decay related to gum disease. Begin with a visit to our dental office to get a cleaning and digital x-rays.
What is Periodontal Disease
Periodontal disease, also known as gingivitis or gum disease, is a common dental condition. This disease results in the gradual loss of gum tissue, as well as teeth due to tissue loss.
Without treatment, you may have gum bleeding and loose adult teeth. In order to avoid losing your teeth, choose periodontal gum therapy.
What Should I Expect With Gum Disease Therapy
When you make an appointment for periodontal disease therapy, the dentist will evaluate the condition of your gums and teeth. Depending on the state of your teeth and gums, the dentist will offer various treatments. These include:
Antibiotics
Dental cleanings
Digital x-rays
Dental extractions
Root planing
Same-day crowns
Scaling
These treatments can reduce oral pain and help improve the way your smile looks. Our dentist will also explain to you how to care for your teeth and gums until your next appointment. Also, with periodontal gum disease, you may need to visit the dentist every four months.
This will allow your dentist to monitor the condition of your disease more carefully. You will be less likely to suffer from tooth and gum loss with this disease.
Can a Jacksonville, NC Dentist Cure Periodontal Disease
You cannot cure gum disease once you have this condition. That is why it is important to follow good health and oral hygiene practices. Even once you have contracted periodontal disease, you can floss, brush, and use mouthwash for effective at-home treatment.
Our dentist can also explore mouth rinses for gum disease that are better suited for your condition and pain level. Start taking a positive step in treating periodontal gum disease today with our treatment in Jacksonville, NC.
Become a Candidate for Periodontal Gum Therapy
Call us at 910-347-9100 to schedule an appointment with Dr. Mancini today. We will set up a consultation visit with our dental associates. This will allow our dentist to determine if you are a good candidate for periodontal gum therapy.