Extractions
---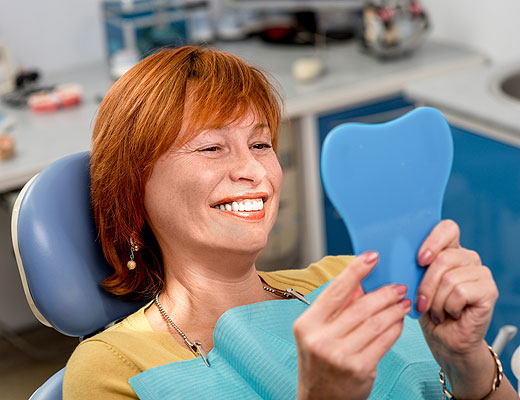 At Gina Mancini, DMD, we're dedicated to doing everything possible to save permanent teeth. We have a wide variety of preventative treatments available to ensure you keep your adult permanent teeth for as long as possible. However, sometimes a tooth extraction is unavoidable. When that happens, you can be sure of the best extraction services in Jacksonville, NC.
Situations When Extraction Services Are Needed
Here are some common reasons why extraction services might be needed:
Wisdom teeth are crowding other teeth
Wisdom teeth need to be extracted before braces are installed
Non-fixable tooth fracture
Advanced stages of periodontal disease
Mouth trauma
Loss of jaw bone supporting structure
Loose tooth is lingering too long
And more
Why Extraction Services Are Necessary
When a tooth becomes diseased or unhealthy, it's often naturally loosened due to a lack of supportive structure. However, sometimes the tooth will remain in place long after it should have fallen out naturally. This can create a situation where the infection of the bad tooth can spread to healthy teeth. It's far better to have an unrepairable, unhealthy tooth extracted in order to potentially save nearby healthy teeth.
Another reason why extraction is so important is because it's essential to take care of the space where the unhealthy tooth is. With the unhealthy tooth still in place, other factors are negatively impacted, such as jaw bone pressure, bite and alignment. Only once a replacement tooth is fitted into that space can your remaining teeth have a chance of a healthy future, too.
Finally, you may be tempted to simply extract a loose tooth at home. But this has the potential for problems. Pulling a loose tooth risks damage to gum tissue or even the supporting structure on either side of the loose tooth. It could lead to excess bleeding, prolonged healing, and even worse ramifications. No matter how much you may be tempted to pull a baby tooth or a loose adult permanent tooth, don't do it. Always contact your dentist at Gina Mancini, DMD for extraction services.
What to Expect With Extraction Services at Gina Mancini, DMD
Extraction services at Gina Mancini, DMD are done with care, patience and precision. We first make you comfortable with numbing agents and sedation if so desired. Your comfort is paramount. A mutually agreed upon plan will already be in place to take care of the space left behind. After assessing the situation, after which you will be fully informed, the dentist will perform the extraction in a safe, sterile manner. You'll be sent home with aftercare instructions, as well as a prescription for pain medication if warranted. However, most patients find that any previous pain associated with a diseased tooth disappears after the tooth is extracted.
The path to a healthy and beautiful smile sometimes involves extraction of problematic teeth. When you have a need for extraction services in Jacksonville, NC, please contact Gina Mancini, DMD.